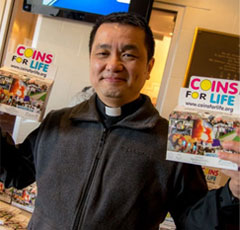 In April 2013, the ethnic-Chinese community of a Catholic parish in Markham, ON concluded a successful, 8-week long Coins For Life fundraising drive to support the life-saving work of Campaign Life Coalition. The pastor at the church strongly promoted the campaign and it was embraced by parishioners.
A youth group in the parish was so passionate about having cooperated in this pro-life support initiative, that 4 teenage members submitted testimonials about their involvement in Coins For Life and their views on the right to life in general.
This article contains photos and reflections from the teens at Saint Agnes Kouying Tsao Catholic Church. Enjoy!